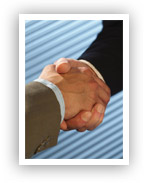 Appointment & Certification of the Board
The Chief Local Elected Officials of such multiple units of local government in an area may execute an agreement that specifies the respective roles of the individual chief elected officials in the appointment of the local Board from individuals nominated or recommended to be such members in accordance with the following establish criteria.
Composition
At a minimum, each local Board shall include:
Representatives of business in the local area who are owners of businesses, chief executive officers or operating officers of businesses and other business executives or employers with optimum policymaking or hiring authority. They must represent businesses with employment opportunities that reflect employment opportunities in the local area; and, are appointed from among individuals nominated by local business organizations and business trade associations.
Representatives of local educational entities, including representatives of local educational agencies, local school boards, entities proving adult education and literacy activities, and post secondary educational institutions (including representatives of community colleges, where such entities exist), selected from among individuals nominated by regional or local educational agencies, institutions, or organizations representing such local educational entities.
Representatives of labor organizations (for a local area in which employees are represented by labor organizations), nominated by local labor federations, or (for a local area in which no employees are represented by such organizations), other representatives of employees.
Representatives of community based organizations (including organizations representing individuals with disabilities and veterans, for a local area in which such organizations are present).
Representatives of economic development agencies, including private sector economic development entities.
Representatives of each of the one stop partners.
May include such other individuals or representatives of entities as the chief local elected officials in the local area may determine to be appropriate.
The state of Illinois also requires the inclusion of a representative from the Department of Human Services, Temporary Assistance for Needy Families program.

>> Download additional information on the SIWDB Board appointment process (PDF file, 299 KB).