Jefferson County students will get to see what 21st Century Manufacturing is all about with plant tours, lunch, great discussions, and more — Thursday, November 7, 2019.
Jefferson County employers featured on the tours include: Continental Tire, InnoTech, Magnum Steel Works, Mt. Vernon Outland Airport, National Railway Equipment,Phoenix Modular Elevator, PPG Industries, Truck Centers, Inc., and Walgreens Distribution Center.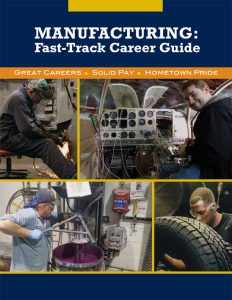 Download the Manufacturing Fast-Track Career Guide (PDF File, 18.4 MB) for information about manufacturing careers in Jefferson County.
For  information on how to create a similar event for your community, contact Kathy Lively, CEO, Man-Tra-Con Corporation at 618.998.0970.